Welcome Message
Allied Academies takes the boundless privilege to invite each one of you to the 3rd International Obesity Summit and Expo being held at Philadelphia, USA in November 05-06, 2018.


We organize conferences where business, academia and associations are contributing existing proficiency & collaborating to develop subject knowledge and accelerate innovations in the field of Obesity Reduction. We aim to gather the Experts & researchers working under academia, principal investigators, Scientists, Business Delegates and students across the globe to provide an international forum to allocate their knowledge. We assure an effective exchange of ideas to tackle the future global challenges from the perspective of emerging trends in engineering and technology by creating a forum for Academicians, Researchers, Scientists, Industry Professionals and students to showcase their research work. We create potential for global reach that will encourage the ever-increasing and critical need for innovative medical solutions which can be achieved by our conference. There is a no better platform to team up with the world class Experts of Obesity in research and Industrial field.
Obesity Summit 2018 encompasses keynote addresses, paper presentation sessions, panel discussions and presentations from experts. This would be an excellent networking opportunity and will foster everlasting companionship among fellow counterparts.
Session/Tracks
Track 1: Obesity Causes
The balance between calorie intake and energy expenditure determines a personality's weight. An absence of energy balance most frequently cause overweight and Obesity. Energy balance implies that energy IN ought to be adequate to energy OUT. Inactive people burn fewer calories than people that are active. A restricted range of cases are expected primarily to genetic, therapeutic reasons, or psychopathy. Conversely, increasing rates of fatness at a social level are felt to be expected to an effectively open and eatable diet.
•Insufficient sleep
•Decreased variability in ambient temperature
•Increased use of medicines that may cause weight gain
•Endocrine disruptors
•Natural selection for higher Body Mass Index (BMI)
Track 2: Childhood obesity
Childhood obesity is also a medical condition that affects youngster teenagers. Childhood obesity is commonly a condition where excess body fat negatively affects a child's health. An indication of childhood obesity may be a weight spill the everyday for a child's height and age. A elaborate and interacting system of things contributes to increasing rates of over-weight and obesity-biological, activity, social, psychological, and technology. Childhood obesity put together causes poor shallowness and depression. To examine body fat directly are difficult, the identification of obesity is often supported Body Mass Index. Many obese children become weighty adults, notably if their people are obese. Childhood obesity is serious as a result of the extra pounds and might cause problems such as- inherited disorder, high force per unit area and high alcohol.
•Birth weight
•Nutrition Education
•Infant Feeding
•Food Choice
Track 3: Bariatric treatment
Bariatric treatment is an operation that is performed to help individual weight loss. Bariatric treatment is to limit food intake and reduce the absorption of food inside the abdomen and intestines. Bariatric treatment is meant to vary or interrupt this digestion technique so food is not broken down and absorbed in usual technique. Bariatric treatment can improve several health problems concerning obesity like high blood pressure, type 2 diabetes unhealthy cholesterol levels, and upset, completely different form of bariatric treatments that may be performed are obesity therapy.
•Types of Bariatric Surgery
•Bariatric Surgery Benefits
•Bariatric Surgery Side Effects
•Clinical Trials
Bariatric Surgery: Bariatric Surgery incorporates a variety of techniques performed on individuals who have obesity. Weight loss is achieved by reducing the size of the stomach with a gastric band or through the expulsion of a part of the stomach or by resecting and re-directing the small digestive tract to a little stomach pouch.
Obesity is extremely associated with numerous endocrine abnormalities that are characterised by hormonal imbalance and resistant. a number of those abnormalities are considered as activating factors for the development of fatness, whereas others are considered to be secondary effects of fatness and often are fixed when weight loss. Secretion of hormones is managed by an arrangement of detection components having the way to recognize demand for each in Regulation of system. Discharge of hormones is managed by an arrangement of detection components having the way to distinguish demand for every expanded and diminished emission. The particular detection system, criticism components, and system of management reactions are one among a kind for every secretion. Hormones play a crucial role in appetite, metabolism, body fat distribution and storage of excess energy in food as fats. Individuals with fat have of these hormones that can increase accumulation of body fat by sterilization the metabolism of the fats.
Track 5: Obesity and Diabetes
Obesity and Diabetes are Inter related diseases. As indicated by insights of Centre for Disease Control, the general population who were determined to have type II diabetes, 80-90% were analysed as obese. For every 3 seconds, one individual is determined to have diabetes. Type II diabetes is a deep-rooted endless sickness in which elevated amounts of sugar (glucose) in the blood and the cells ignore the insulin. Type II diabetes Weight pickup is regular in individuals who take insulin to treat diabetes. That is a result of more insulin we use to maintain our blood glucose level, the more glucose is ingested into our cells, contrast with and by our body. The absorbed glucose was put away as a fat, which makes us gain weight.
Track 6: Gastro-oesophageal Reflux Disease
Gastro-oesophageal reflux disease is often called acid reflux is a digestive disorder that affects the lower oesophageal. Gastro-oesophageal reflux could cause manifestations or pathologic changes. Flowing of viscus and duodenal substance into the oesophageal and past the lower oesophageal sphincter muscle causes belching or vomit. Obesity is a crucial risk issue for gastro-oesophageal reflux disease and Causes are dietary issue, lifestyle factor, medications.
•Endoscopy
•Biopsy
•Oesophageal manometry
•Barium oesophagography
•Acid perfusion
Track 7: Obesity and Cancer
Extra fat in the body can have harmful effects, like producing hormones and growth factors that affect the way our cells work. This can raise the risk of several diseases, including cancer. More than 1 in 20 cancer cases in the UK are linked to being overweight or obese. Obese individuals usually have chronic low level inflammation, which can, over time, cause chemical compound damage that leads to cancer. Overweight and obese individuals are lots of most likely than normal-weight individuals to possess conditions or disorders that are connected to or that cause chronic native inflammation that's risk factors surely cancers. As an example, chronic native inflammation induced by oesophageal reflux health problem or Barrett oesophagus is also a most likely explanation for system glandular cancer. Obesity is also a risk issue for gallstones, a condition characterized by chronic bladder inflammation, and a history of gallstones may be a strong risk issue for bladder cancer.
•Thyroid cancer
•Thoracic cancer
•Renal cell cancer
•Lung cancer
Lipid metabolism is associate invasive procedure used to improve body contour by removing areas of fat they have been resistant to diet and exercise. Over weight and obesity affects quite sixty six of the adult population and is related to various chronic diseases. Liposuction seems to boost the quality of life and reduces pain in patients with generalized refined type. It's necessary to note that liposuction is not supposed to significantly decreases weight, cellulite, or drooping skin. The muse of eminent weight management remains a healthy, calorie-controlled diet combined with exercise. Being physically active may facilitate stop disorder, some cancers and type 2 diabetes diseases. For eminent, long weight loss, you would like to create permanent changes in your fashion and health fitness.
Track 9: Psychiatry and Obesity

Obesity has emerged as a serious threat to public health throughout the developed world. The World Organization defines overweight as a body mass index of 25.0 to 29.9 kg/m2 and fat as a BMI of 30.0 kg/m2 or greater. Nearly two-thirds of American citizens are overweight or obese consistent with these criteria. Numerous health problems, such as, diabetes, cardiovascular disease, arthritis, and cancer, are associated with obesity. Overweight and obese persons are more possible than their normal-weight peers to possess a variety of psychiatrical.
Track 10: Psychological and Social factor causing Obesity
Obesity is as much a psychological as a physical disadvantage. Society views obesity very negatively and tends to believe that people World Health Organization are obese are 'weak-willed' and 'unmotivated'. They understand social and work-related discrimination, sometimes suffer from low shallowness as a result, and feel uncomfortable with their bodies. Obese people are sometimes aware of these negative views, and intemalize them, putting themselves at risk for disorders of mood, anxiety, and misuse. Obese people have generally created multiple attempts to reduce weight, with very little or no success. Their unsuccessful attempts lead to discouragement, frustration, hopelessness, and learned helplessness concerning the prospect of losing weight within the future on their own.
Track 11: Metabolic Syndromes and Anorexia
Individuals who by choice starve themselves experience the ill effects of a dietary issue mentioned as anorexia nervosa. Metabolic syndrome could be a cluster of improved blood stress, excessive blood glucose, extra frame fat across the waist, and a typical cholesterol or triglyceride ranges that occur along, growing your risk of heart illness, stoke and diabetes. Osteoporosis is one amongst chief complications and sequelae of anorexia nervosa. It should be noted that high energy high energy accessibility observed in these disorder leads to obesity and exacerbate metabolic syndrome. Cognitive-behavioural therapy and drugs with selective serotonin uptake inhibitors can create patients to regulate symptoms and improve their QOL.
•Metabolic Complications of Obesity
•Bile loss Acids
•Gastro oesophageal reflux disease
•Overweight and Eating Disorders
•Endocrinology and Metabolism
Track 12: Obesity treatment
The Main helpful fundamental utilized for treating weight is appropriate eating regimen and physical exercise, and sound way of life alteration which diminish vitality admission and increment consumption vitality.
Pharmacotherapy
, Appetite suppressants, Orlistat, Surgery and sound Dietary Supplements are a portion of the basic treatment utilized as a part of decreasing corpulence.
• Dietary changes

• Exercise and activity
• Behaviour change
• Prescription weight-loss medications
• Weight-loss surgery
Track 13: Yoga and Naturopathy
Yoga is the best choice in controlling obesity & maintaining the body fit and healthier also considered as most important physical activity in reducing the Obesity. Nutrition sports fitness is any bodily activity that enhances or maintains physical training and overall health and wellness and best ways that to reduce weight. Regular and non-stop yoga exercise is one amongst the most important non medication ways that of enhancing blood serum lipid concentration, adipose tissue, and metabolic syndrome components. Beside the series, however effective yoga postures and respiration techniques, a greater stress is placed on the inner exercise of meditation, for the well-being of mind and completely different hidden components of human existence. Frequent and regular exercising boosts the immune system and helps prevent the diseases of affluence like heart disorder, cardiovascular disease, type II diabetes, and obesity.
• Power Yoga
• Self-Control
• Mental Stability
Obesity is a developing concern on the grounds that being overweight is broadly viewed as a major risk factor for metabolic syndrome, cardiovascular disease, and premature death. In spite of the fact that the systems for this weight pick up have not been completely explained, dietary variables might be important in the improvement of obesity. Diet consists of a combination of foods, and these individual segments may have intuitive or synergistic impacts that make studying dietary factors in detachment troublesome. Dietary patterns that represent a combination of nourishment might be more strongly associated with sickness chance than an individual sustenance and supplement. Previous studies have detailed that dietary patterns that are high in organic products, vegetables, and fiber may be related to a reduced risk of obesity.
Track 15: Genetics of Obesity
Genetics plays a crucial role in obesity. Genes will directly cause obesity with disorders like Bardet-Biedi syndrome and Prader-willi syndrome. However genes do not always predict future health issues, however genes and behaviour could each be required for an individual to be overweight. Body Mass Index (BMI) >30 kg/m2, and it is a lot of than one in three children born within the early 21st century can arise diabetes with a important reduction in lifetime expectancy. Obesity may be a major risk issue for cardiovascular, pulmonary, metabolic, and osteoarticular disease, for many of the common types of cancer and for serious psychiatric illness. Childhood obesity is related to earlier type II diabetes and with an enhanced mortality risk for coronary cardiovascular disease in adults. These days numerous treatments and medications are available for the genetics of obesity. Gene therapy could be a wildly used treatment for obesity.
•Hereditary factors
•Work related physical activity
•Physical activity
The deflated gastric balloon is inserted through the esophagus and into patient stomach. A syringe is then used to fill the balloon with a sterile saline solution. Once the weight loss
balloon
has been filled with saline it is about the size of a grapefruit. The entire procedure takes about 20 minutes. After roughly two hours of recovery, most patients head home to begin the rest of their new life.
Track 17: Maternal Obesity
Maternal obesity refers to obesity of a woman during pregnancy. Maternal obesity has a significant impact on
maternal metabolism
and offspring development. Insulin resistance, glucose homeostasis, fat oxidation and amino acid synthesis are all disrupted by maternal obesity and contribute to adverse outcomes. Modification of lifestyle is an effective intervention strategy for improvement of maternal metabolism and the prevention of adverse outcomes.
Track 18: Obesity associated health disorders
People who have obesity, compared to those with a normal or healthy weight, are at increased risk for many serious diseases and health conditions; someone who is 40% overweight is twice as likely to die prematurely as is an average-weight person. The dangers emerge with BMI, and are more noteworthy for obese people. Overweight and heftiness are demonstrated hazard factors for:
• Diabetes
• Heart disease and Stroke
• High cholesterol
• Hypertension
• Gallbladder disorders
• Musculoskeletal problems
• Osteoarthritis
• Sleep Apnea & other respiratory illness
• Cancer disorders
Track 19: Current Researches in obesity
During the past 20 years, obesity among adults has risen through and through in the United States. The latest data from the National Centre for Health Statistics states that 33% of population 20 years of age and more settled—more than 100 million people—are strong. This development isn't confined to adults but instead, has in like manner affected adolescents. Among youth, 18 percent of children developed 6-11 years and 21 percent of adolescents developed 12– 19 years are seen as obese. These rates of obesity have critical repercussions for Americans' prosperity. But one of the national prosperity objectives for the year 2020 is to lessen the regularity of obesity among adults by 10 %, current data shows that the situation isn't advancing. Hopkins GIM workers are looking at overweight the full extent of its trademark history and challenges, and likewise endeavouring to fight the torment by investigating different techniques and interventions.
•Insulin and islet biology
•Diabetes and its complications
•Transplantation for diabetes
•Drugs treatment and devices for obesity: Current analysis
•Transplantation for diabetes
•Drug treatments and devices for obesity
•Usage of Nano Technology
•Drug Treatments and Devices of Obesity
•Nutritional Genomics
•Thyroid and Obesity
Obesity is one among the most important health risks of recent times. The prevalence of obesity has increased worldwide since the middle 1970's. According to the national health and nutrition examination survey, obesity affected 32.2% of adults in 2003-2004 and reached a peak in subjects within the 5th decades. Obesity is related to a risk of type 2 disease, Dyslipidaemia, kidney disease, cardiovascular disease, all-cause mortality, and cancer. Hence, severe obesity is a very important reason for premature mortality among old adults.
Track 20: Role of Anaesthesiologists in Obesity
Anaesthesia and surgery may entail considerable risk for obese patients. Recent United Kingdom government statistics recommend that 20% of adults are obese and 1% morbidly obese. Obesity may be a multi-system disorder, significantly involving the metabolic process and cardiovascular systems, thus a multidisciplinary approach is needed. A Body Mass Index of >35 kg m-2 with associated with comorbidity, or >40 kg m-2 while not significant comorbidity, is considered, be morbidly obese >55 kg m-2 is considered super-morbidly obese. Obese patients create Anaesthesiologists' work a lot of arduous. Obese patients, particularly morbidly obese and super weighty patients, are at increased risk when they would like surgery.
Most quick weight loss medicines for obesity work by creating you are feeling less hungry or making very low calories diet and exercise. Medicines are sometimes used for individuals who have a Body mass index (BMI) lies between 25 to 30 or over 30. Fat medicines changes one amongst the essential processes of the material body, by sterilization appetite, weight regulation, or absorption of calories. Obesity medicines increase of the body's metabolism. Orlistat is in addition out there over the counter. Orlistat reduces enteric fat absorption by inhibiting pancreatic enzyme.
•Mazindol
•Phendimetrazine
•Phentermine
•Diethylpropion
Track 22- Advanced treatment for Obesity
An innovative interpretation and characteristic approach for obesity is needed that it should be applicable, medically meaningful, and adds value to the health-promoting effects of weight loss. A conscious target is to start dynamic lifestyle changes by creating physical activity and consumption sound sustenance.
• Bariatric surgery
• Liposuction
• Gastric Bypass surgery
• Morbid obesity treatment
• Sympathomimetic drugs
• Surgical and Non-Surgical Liposuction
• Morbid Obesity Treatment
• Advanced Inch loss Therapy
• Sleeve Gastrectomy
• Islet Cell Transplantation
• Weight Loss Using Kinesiology
Whether it's playing football, swimming, running, kick-boxing or strolling, dynamic individuals or competitors have to eat nutritious, balanced count calories to fuel their body. Great sustenance, like every wearing occasion, has fundamental ground rules. Taking after these rules and getting bounty of hone will offer assistance dynamic individuals and competitors feel splendid.
Standard physical action adds to great comfort over all life stages, though idleness is a standout amongst the hugest supporters of the universal weight of illness. Stationary conduct, including time spent sitting every day, is developing as an autonomous hazard factor for wellbeing. Moving progressively and sitting less is essential for physical and psychological well-being and prosperity, and conveys a scope of other financial, social and condition benefits.
About Obesity Summit 2018
Allied Academies is a scientific association known for promoting scientific temperament and has been performing very well in Business and Management and is a perfect platform for our readers. It is established in the year 1997. The main motto is making the information on science and technology. It is a specialized medical and science publisher that operates in collaboration with the association and societies. This publishing house has been built on the base of esteemed academic and research institutions including The College of Audiologists and Speech Language Pathologists of Ontario (CASLPO), The Association for Public Safety Communications Officials of Canada (APCO), The Canadian Vascular Access Association (CVAA), and The Canadian Society of Internal Medicine (CSIM).
3rd International Obesity Summit and Expo welcomes all the participants around the globe to be a part at the event during November 05-06, 2018 at Philadelphia, USA. The theme of the meeting is "Alleviating Obesity: Vanishing the Weight of Life"
Obesity Summit 2018 the main objective of the event is to promote awareness about proper nutrition and risk associated with improper diet along with obesity and its impact on health, World Obesity Summit 2018 will educate and strengthen recent research on the several causes, results, treatment, and prevention of obesity, Event like our's is essential to encourage the involvement of researchers, scientists and to highlight their role, this will help to Connect active researchers and practitioners from diverse disciplines.
Obesity Summit 2018 is focused in improving the lives of those living with obesity, nurturing careers of obesity scientists and practitioners and promoting the interdisciplinary nature of obesity research, management and education.
Obesity summit is a step to achieve the principal breaches in the revolution of this science of hope, to serve promptly with resolutions to all in the need. Obesity Summit 2018 will have an anticipated participation of 150+ delegates across the world to discuss the conference goal.
About Organizers:
Allied Academies is one of the leading Open access publishers and organizers of international scientific conferences and events every year across USA, Europe & Asia. Allied Academics has so far organized 3000+ Global Allied Academics Events with over 600+ Conferences, 1200+ Symposiums and 1200+ Workshops on Medical, Pharma, Engineering, Science, Technology and Business with 700+ peer-reviewed open access Journals in basic science, health, and technology.
Target Audience:
Eminent personalities, Directors, CEO, President, Vice-president, Organizations, Associations Heads and Professors, Research scientists, laboratory heads, Post-docs, Students, Academics, Counsellors, Clinicians, Diabetologists, Educators, Dieticians, Exercise therapists, Family Physicians, Family Therapists, General Practitioners, Health Educators/promoters, Healthcare policy makers, Mental Health Professionals, Nurses, Nutritionists, Occupational Therapists, Paediatricians, Physical activity specialists, Physicians, Physiotherapists, Psychologists, Research scientists, Social workers, Business delegates, Young researchers and other affiliates related to the area of Obesity Research.
Market Analysis
USA has topped world obesity rankings, a high frequency of overweight and obese people has increasingly become a global phenomenon afflicting developing as well as developed countries. In China, overweight rates doubled from 13.5 to 26.7 percent between 1991 and 2006 according to the OECD, while the prevalence of diabetes reportedly reached a level similar to the U.S. at over 92 million cases.


Global Obesity Surgery Devices Market is estimated to reach $3,567 Million by 2024; growing at a CAGR of 9.5% from 2016 to 2024. Obesity is chronic metabolic and genetic disease which involves excess fat deposition in the body. It is mainly caused by reduced physical exercises, increased fatty intake, and genetic inheritance. Obesity surgery treats obesity by removing portion of the stomach or decrease in size of stomach through application of sleeve gastrectomy or gastric bands. According to WHO, in 2014 over 1.9 billion adults globally, were found to be overweight, among which, 600 million were obese. Moreover, 41 million children below the age of 5 were found to be obese. Obesity surgeries has an advantageous effects on many medical conditions such as diabetes, acid reflux, low back pain, sleep apnea, urinary stress incontinence, hypertension, and polycystic ovary syndrome (PCOS).
The obesity market generated approximately $407m in global sales in 2012. Over the next 10 years, this market is expected to grow to reach $8.4 billion, with major growth occurring in the main obesity markets, such as the US, Canada, and Brazil.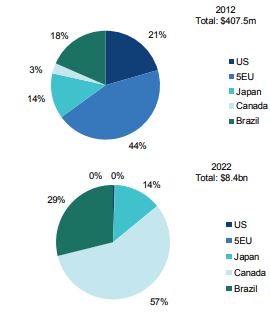 The worldwide obesity treatment showcase is relied upon to achieve USD 15.6 billion by 2024, as indicated by another report by Grand View Research, Inc. Upward pattern in stationary ways of life, physical inertia, and unfortunate sustenance propensities are the key variables in charge of the high predominance of obesity. As indicated by the Institute of Health Metrics and Evaluation, around 30.0% of the worldwide populace is either obese or overweight.


Importance and Scope:
Obesity Summit is anticipated to present an unresolved range of research from different nations carrying together united solutions. This Obesity congress will be of interest to anyone concerned in learning, sharing issues and experiences regarding Obesity & its related areas of Medicine & Health Care. This Obesity meeting fetches leading and experienced Metabolic and Bariatric Surgeons, Physicians, Basic and Clinical Research Scientists, Integrated Health Professionals, Registered Dieticians and Diabetes Educators, Physical Therapists, Students, Industry Professionals, Fitness Professionals and Health Promoters and many more.